Scottsdale mansion is second-priciest Phoenix-area home sale of 2013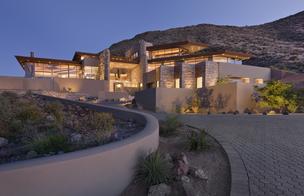 A 8,089-square-foot modern mansion in Scottsdale's Desert Mountain community garnered the second-priciest Phoenix-area home sale, as measured by price per square foot, in 2013 so far.
It closed escrow on Oct. 15 for nearly $773 per square foot — or $6.25 million total — the highest price per square foot for a single-family detached home in the Valley for 2013 at the time, according to local housing expert Michael Orr's research in the Arizona Regional Multiple Listing Service. Two weeks later on Oct. 31, the contemporary abode was knocked to No. 2 with the sale of another Scottsdale single-family detached mansion that went for more than $800 per square foot.
(Orr noted that there were two other off-MLS sales in the Valley this year that sold at even higher prices per square foot, but weren't fair comparables because the lots were large and the homes were very old and small.)
Full article here: http://www.bizjournals.com/phoenix/news/2013/11/19/scottsdale-mansion-is-second-priciest.html