Residential project kicks off at Scottsdale Quarter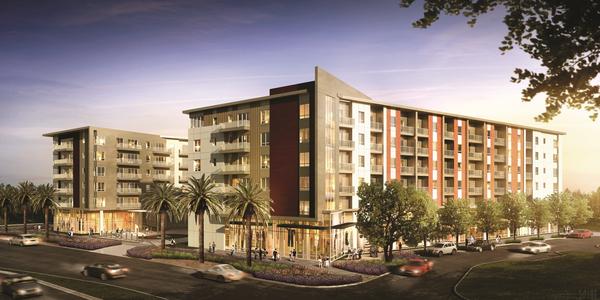 The long-awaited residential component at Scottsdale Quarter was breaking ground this afternoon, also kicking off the third and final phase of the entire mixed-use shopping center.
Located at the northeast corner of Scottsdale Road and Greenway-Hayden Loop, the 275-unit luxury apartment project — dubbed Crescent Scottsdale Quarter — is a joint venture between Charlotte, N.C.-based Crescent Communities and Ohio-based Glimcher Realty Trust (NYSE: GRT), the developer of the Quarter, according to a Crescent statement today.
An article by the Business Real Estate Weekly of Arizona today stated the project's total cost (including land and development) is more than $61 million, which is evidenced by public records that were not immediately available in the Maricopa County Recorder's Office website. It would be part of the several-times delayed third phase of the Quarter, where Arizona's first Bloomingdale's is rumored to be opening. Richard Hunt, the Quarter's general manager, declined to comment.
Plans for this multifamily component had hung in limbo ever since Glimcher's first development partner, Cleveland-based Zaremba Group LLC, pulled out late last year. Its new partnership with Crescent, the majority owner, was announced in May and blueprints were downsized from Zaremba's 350 units to 275.
BREW said Whiting-Turner Contracting Co. is the general contractor and should wrap up construction by spring 2015.
Scottsdale Quarter rests on the former 28-acre Dial Corp. site across from the popular Kierland Commons shopping center. The first phase opened in March 2009, and initially was plagued with high vacancy following its fall 2010 second-phase opening. Both phases include ground-level retail and second-and third-story office space.
Full story here: http://www.bizjournals.com/phoenix/news/2013/11/20/residential-project-kicks-off-at.html